Stages of Dental Disease

To understand the stages of dental disease, also knows as periodontal disease, we must first understand what it is.
In the beginning stage, dental disease is known as gingivitis - which is inflammation involving the gingival tissues. At this stage the disease is reversible. As the disease progresses it is then called Periodontitis. Periodontitis is an active disease of the tissues that support the teeth resulting in attachment loss around them. At this point the disease is irreversible, and the goal becomes controlling the disease. Below are some photographs that show the progression as it effects the gum and tissue of your pet's mouth.
---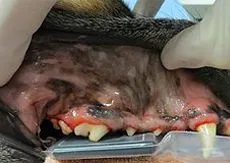 Dog full mouth radiographs
Cat full mouth radiographs

We provide dental cleanings and tooth removal here at Ladson Veterinary Hospital. As with our soft-tissue surgeries, we precede every dental procedure with Pre-Anesthetic bloodwork and an EKG screen for pet's over the age of 2. We not only clean, scale, and polish the teeth, but take Dental Radiographs to show any underlying issues that may not be seen on the surface. The purpose of this is to provide the best care for your pet's teeth, to keep them strong and problem free for as long as possible. We also offer a few different post-operative care options to keep your pet's teeth clean and healthy at home.
The first and most popular is the CET Toothbrush & Paste Kit. This is the most commonly used amongst pet owners, since we as humans brush our teeth on a daily basis as well. The kit is VOHC (Veterinary Oral Health Council) approved to keep your pet's breath fresh and their teeth strong! This kit can be used for both cats and dogs. If you would like to learn more about the CET Kit, feel free to give us a call or click the picture below to the Virbac website for more information!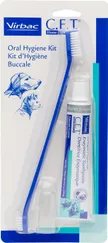 Our next product is Vetriscience's Perio Support Pro Powder. This can be used for both cat and dog family members, and is so easy to use it has been our best-selling product yet! Perio Support Pro Powder is a very fine, vanilla flavored powder that is simply sprinkled on your pet's food at mealtime. That's it! The active ingredients work with the pet's saliva to break down tartar and plaque buildup, freshening and strengthening your pet's teeth and gums. Not only is it easy to use, you don't need to use much of it, making the container last weeks to months! To learn more about Vetriscience's Perio Support Pro Powder, feel free to give us a call or click the picture below for more information.